Bookshop "Akademinė knyga"
Bookshop "Akademinė knyga"
Address: Universiteto g. 4, 01131 Vilnius
General telephone number: +370 5 266 1680
Opening hours: 10 am - 6 pm on weekdays
Follow the news: 

---
Academic literature -Rugilė Karkauskaitė ,tel. nr. +370 5 2661680, el. paštas rugile@humanitas.lt;
E-bookstore - Jonas Ramanavičius, tel. +370 5 2661682, e-mail jonasr@humanitas.lt;
Institutional clients, tenders- Tomas Karanauskas, tel. +370 5 2661685, e-mail tomas@humanitas.lt;
Language Teaching Literature, fiction - Vilma Venckutė, tel. +370 5 2661684, e-mail vilma@humanitas.lt
Head of the Bookstore - Veronika Galvelienė, tel. +370 5 2661682, e-mail veronika@humanitas.lt;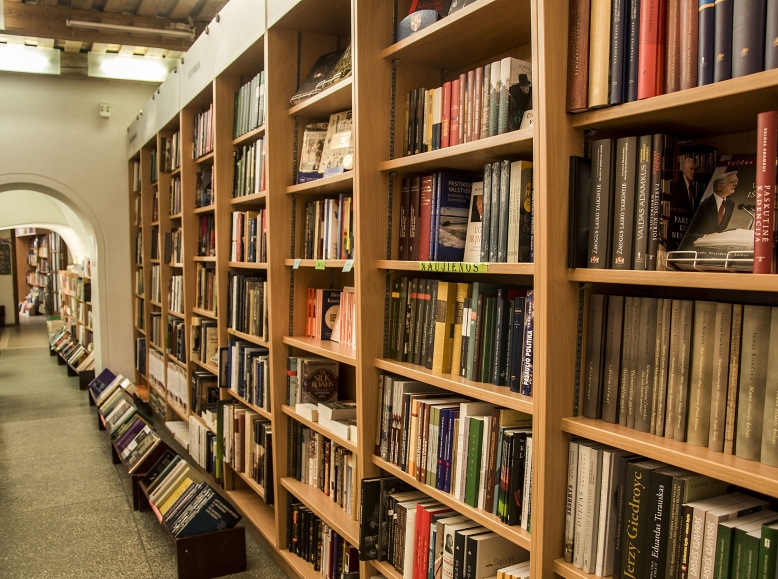 The bookstore has five halls with a total area of 160 square metres. Each of the five halls has its own purpose.
The main function of the first hall is the presentation of new products. A table holds the books that have just been received, which are then placed on the science news shelf. Practically any new book will last about a month in this room, so that less frequent visitors can have no fear of a new book slipping through unnoticed. There are also shelves of selected fiction, Lithuanian studies, travel and leisure books.
The second hall is devoted to history, philosophy, religion and art, and the third to computing, business and economics, politics, law, sociology, psychology, medicine, natural and exact sciences and engineering. We have many books for students.
The first room of our Gothic basement is dedicated to Lithuanian studies. When you visit, you will see that for us this term is extremely broad - it is not only the study of the Lithuanian language, but also Lithuanian literature, ethnography, memoirs and biographies of famous compatriots, and foreign publications about Lithuania.
The second basement hall is dedicated to language learning and philology. We hope that this division will help you find what you need.
The bookstore has a Western literature order desk. An experienced member of staff will help you to find the English, American or German titles you need, which you can order if you wish.